"UpNorth"- Acoustic Rock Band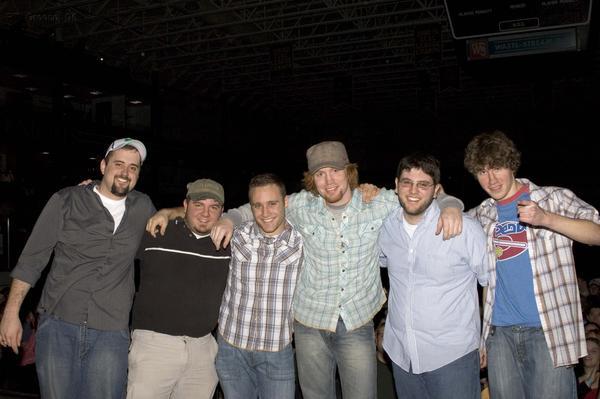 Jeff - joined an acoustic rock band in 2005 appropriately named Up North. The band consists of a core group of four with a traditional break down of lead guitar, rhythm guitar, bass and drums. The band is joined on occasion by a violin player and a keyboard player. Formed on the campus of Clarkson University in Potsdam New York the original band members were from that university.
At the start of the 2005 academic year the band was in need of a bass player as some original members had graduated. Jeff auditioned for the band and they liked him. The band plays a mix of cover tunes and original tunes written by Howard the rhythm guitarist and lead vocalist. Suffering a set back the bands lead guitarist Tim fractured his arm snowboarding early winter 2005 and the band anticipated that it would take several months before the fracture would heal and the band would back on track. UpNorth has been working on recording original material at Clarkson universities new studio recording facility; it is anticipated Tim will add his lead guitar tracks at a later time. The band has done a couple of select gigs during the intrim with substitute lead guitarists and Howard has played some solo performances as well. Jeff still plays jazz gigs when they come up as well as working on his classical music studies.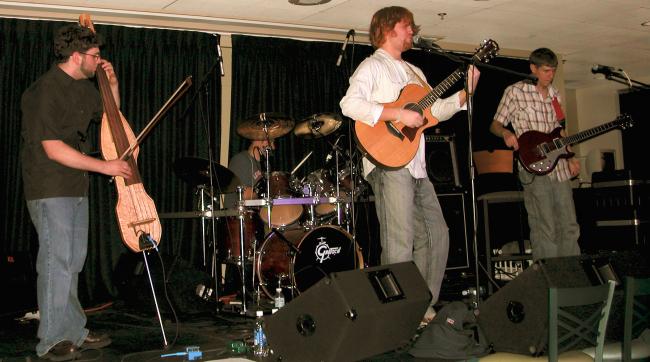 4-08-06 UP-North played at Clarkson University in the Cheel Arena opening for the bands "Stroke 9" and "Sister Hazel". As inpartial as I can be I would have to say UPNORTH was the better band . I had planned to use my new AT 831 lavalier mics but at the last minute I decided to use a mini lavalier with two capsules however they do not have very high SPL capacity and as such there was some overload. Considering the volume and bommy arena acoustics the samples are OK. I was concerned if anyone would give me a problem with recording the performance (they were searching and frisking concert goers maybe for alcohol or drugs) and the AT 831 mics I have use power modules and require XLR cables so it would be a bit more bulky and apparent so I opted for the mini Lavaliers (very stealthy). Please give a listen as its a good representation of the performance even if the sound /recording quality is not optimal (Boomy arena acoustics).
2006 Fall Clarkson University Studio Recording
1. Straight Up Loving --mp3