M-audio MicroTrack 24/94 stereo field recorder page:
I have long been interested in simple field recording and have dabbled with minidisk recording for a couple of years starting back in 2003. There are dozens of minidisk samples on this site all done with a Sony MZ R37 recorder and an electric stereo mic used in conjunction with a battery box I built to optimize the mic performance. The Microtrack recorder records to a Compact flash card and it will support up to 2Gb cards. It records to 2 tracks with a 1/8" jack input or 2 -- 1/4 in jack inputs --phantom power is offered but the initally claimed 48 volt rating turned out to be only 30 volts and that creates issues with some phantom powered mics that require 48 volts.
All my mics are 48 volt rated and I thought to address this I would try some inexpensive Nady mics model SPC-15 which retailed for 29 dollars. These mics are rated 9 to 52 volt operational voltage. I tried this but was disappointed with the noise level and I'm not yet certain if its the mics or the MicroTrack preamps but to rectify the problem I decided to buy a mini mixer. I bought a Nady product again, their MX 612 mixer --6 channels with 2 phantom powered (48 volt) XLR inputs. Included in the mixer is a simple digital reverb which is nice as well as the ability to pan L and R and 3 band EQ. I was able to get OK quality input into the MicroTrack with this approach but I did lose that total portability that I wanted.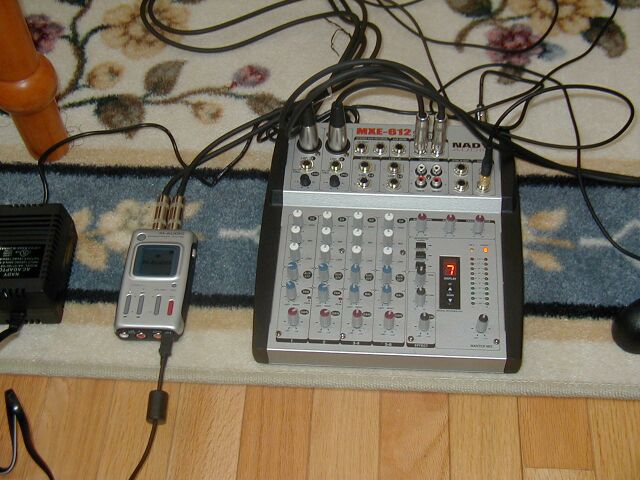 Some alternative approaches to using the micro track I'm actively working on is the use of the "Art Dual Phantom II" phantom power supply which will supply 48v to two mics. This would prolong the battery life on the MicroTrack and would permit the use of any phantom powered mic. Alternatives would be a self powered mic such as the AKG c1000s or the AKG mb4k. Also I have had some interest in the AT 831 mics which are lavalier mics. The AT 831 have a few different offererings 831a, 831b, and 831r all of which are wired either directly to or by cable to a phantom power unit the AT 831 also has offering for wireless mic/transmitters. I have read pros and cons on the AKG c1000s and its hard to find recorded samples of the AKG 831 mics both have reasonable frequency range however I've heard c1000s critisism for being to brittle in the high frequency range.
The use of Lavaliers might prove to be an interesting experiment the 831 is a cardioid capsule which rejects of axis noise; the power units have a bass roll off switch (low frequency) so you can tailor the sound some as well. AT also offers an adapter of an acoustic guitar --a for "clip on" adapter for clothing mount and an adapter for brass/woodwind instruments! AKG also has Lavalier mics that are omnidirectional which may be useful in certain situations.
My micro track is using a 512mg Compact Flash card; the supplied 64mg card would permit perhaps one wav. file recording only. The MicroTrack records in either mp3 format or wav. file format.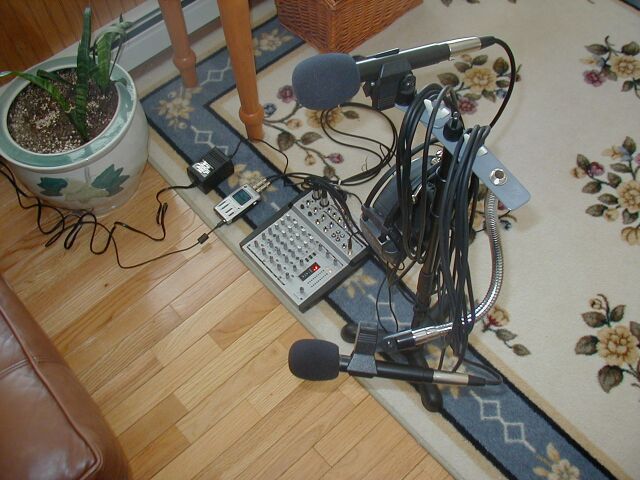 I plan to use this setup as a scratch pad for songwriting and for live field recordings as well in some cases for completed simple acoustic songs. The MicroTrack is also nice for basic vocal/guitar tracks to be imported later into other recording formats available via the SPDIF output.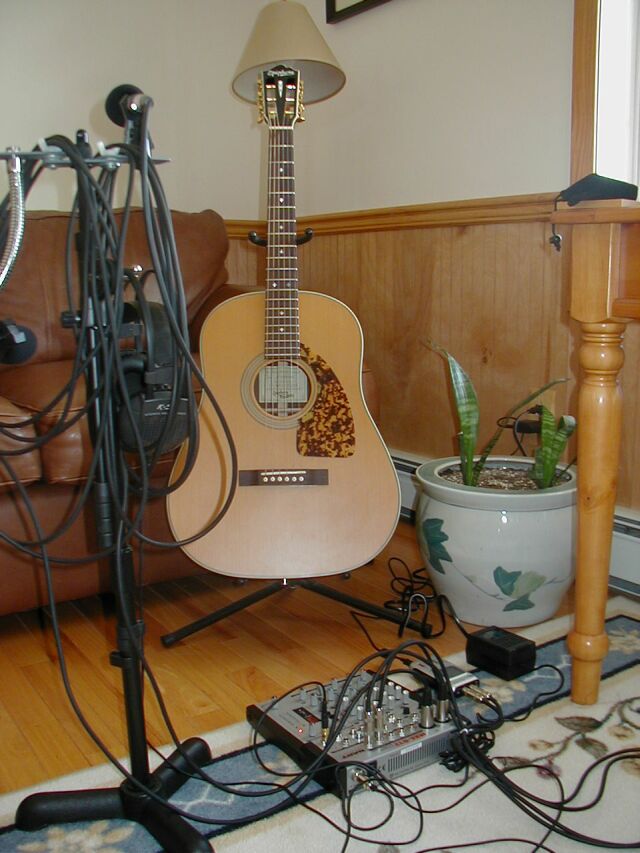 Here are a couple of samples from the MicroTrack any questions or comments e-mail me at gutter@twcny.rr.com
Wild About My Loving was recorded with with the Nady SPL-15 mics and Falling was recorded with Oktava-012-01 mics.